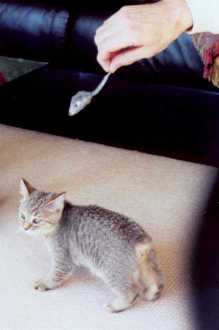 As you can see, Steve's kitten, Juno, is not a "normal" cat.  She's a "Pixie-Bob."  It's a ridiculous name for a really cool cat, but the breed was basically developed by a bunch of silly cat fanciers – so I suppose we're stuck with the cutesy-pie name.
The breed takes its name from a cat called "Pixie" who was alleged to be be a cross between a domestic cat and a wild bobcat.  Similar cats with supposed bobcat ancestry were sought out to form the basis of  the breed.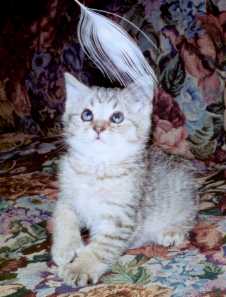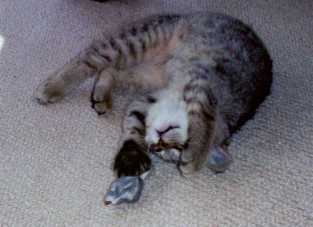 Pixie and all her progeny share a number of unique traits that make them stand apart from your normal housecat.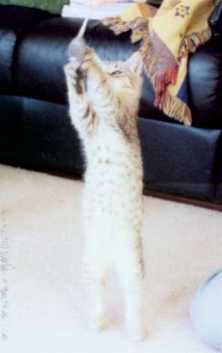 First and foremost is the fact that they have a "bobbed" tail.  Less noticeable differences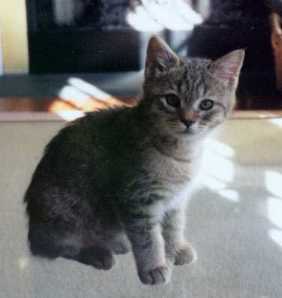 include ear tufts and ear spots, a spotted and ticked coat, and enormous paws.  They also have a very heavy brow which makes them look pretty ferocious.
The P-B's are much bigger than normal cats. While the females are larger than the average cat, some of the males get to be twice as large. They have an unusual coat, more like a pelt, that doesn't really shed.  Steve, who's allergic to cats, has had absolutely no problem with her.
The best part of the breed, however, in our opinion, is their outgoing, goofy personalities.   Juno is as playful, as, well, … a kitten, and a puppy, combined.
If you want to know more about them, click here.
P.S.  Juno is a "breeder" quality kitty, who is expected to produce at least two litters of kitten before she retires. If you're interested in particulars, let us know.