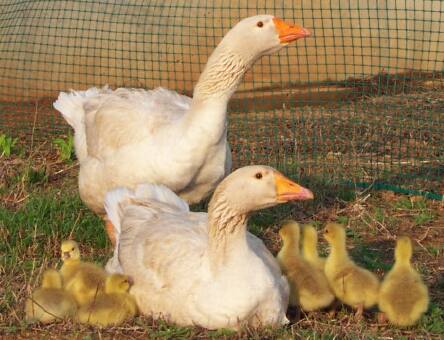 We have three pair of American Buff Geese on the farm.  Ideally, each gander is there to aid and protect his goose while she's laying and incubating her eggs.  While this is fine in theory, it has yet to work out that way.  This year was a case in point.  Our first goose dutifully laid her eggs and had a watchful gander to guard her nest and goslings.  The second goose soon followed suit.  The third, and youngest goose, took her time laying her eggs and deciding when to go broody.   By the time she got her act together, her gander had lost interest and was busying assisting another gander and goose in raising their brood.   In fact, while goose three was still busy incubating her eggs, the other two families had coalesced into a flock of  three ganders, two geese, and a dozen goslings.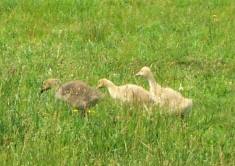 Left to herself, this first time mother wasn't getting any support from the other geese and when she hatched two goslings, she was a rather distracted single mother.   When her goslings were about three days old, she decided she'd had enough of being left on her own with her goslings and abandoned them to join the rest of the flock.  As the two little ones couldn't keep up with their mother, they were placed in a pen by themselves.
About this time, a wild goose family out for a stroll met with an accident.  One of their goslings had somehow gotten its leg caught up in our poultry net fencing and twisted it trying to break free.  I untangled the little gosling and wrapped his leg into its proper position, and as he was exactly the same size as the two abandoned domestic goslings, I put him in with the orphans.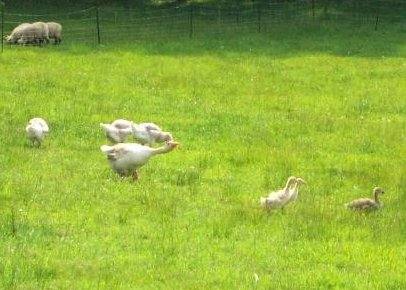 In time the little gosling's leg healed and he became fast friends with his orphan siblings. Once they were bigger they were let out to join the rest of the flock. But the rest of the flock would have nothing to do with them. These three younger goslings were seen as interlopers and driven away. Here's a photo of them being chased away from the flock by one of the ganders.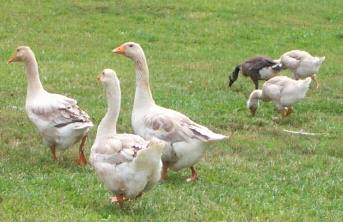 As he grew the Canada Goose gosling developed a curious stride (hence the name "Strider"). His two domestic siblings followed him everywhere.
Slowly, but surely, the other geese came to accept the three outcasts, as long as they keep their distance, and Strider seemed to enjoy being a 'domestic' goose. Yet just two days ago, I went to let the geese out in the pasture and Strider was nowhere to be seen. Later that day I found him with some wild geese and the swans on the pond. Today he left with the wild geese. Who knows if he'll ever return.