So the truth is, we didn't just decide to sell the farm and then suddenly say "okay, let's build a house."  First of all, the house had been an idée fixe of mine since even before I bought my first acres.  The idea of a Country House and all that it signified was foremost in my mind when I began searching for a country property in the early 1990s.  I distinctly remember being horrified when a group of friends who had joined me on my search one day began telling me over lunch all the features that I 'must' have for my house.  "Oh" said Ann Marie, "And you've got to have space for an outdoor clothesline! It's the best!" "A clothesline?'' I repeated incredulously.  It was clear that every single one of them was envisioning a quaint little rustic farmhouse or cabin, while I was contemplating Chatsworth.  When I sketched out on a napkin what I had in mind, they all fell silent.  Clearly they were all embarrassed on my behalf and not quite sure to how to break it to me that my ambitions were far outsized for my budget.
And that, I think, has been the problem ever since.  When I first found the land that would become Touchstone Farm, it was with Touchstone Hall in mind that I chose the scrubby overgrown parcel.  If I could clear this one miserable patch of woods it would be an excellent site to build the house of my dreams.
And so I bought the place, and over the years struggled to build the adjoining guest house (the tiny one bedroom garage apartment I've been living in for the past 25 years), the walled gardens that would flank the house, and the garden outbuildings that would cap the gardens.  Also over the years I would add more land to my holdings so that the house site eventually would be in the center of a larger farm.  In my mind I was a mini-Le Notre, clearing land to create allées and dredging the pond to enlarge it to fit the geometry of the allée as it related to the future house site.  I refurbished the large barn and planted trees in a far field to screen out a neighbor and create a distant view from the eventual house site.  On the other side of the farm, I played mini-Capability Brown – planting trees and gently taming the landscape of my fields to form pastoral scenes visible from any window in my still non-existent house.
That was my dream.  For the past 26 years I have always held the idea of this house in my mind and how it was placed in the landscape 'just so.'   Of course when I began this process the thought was that this future house would be only a few years off – I'd win the lottery, make a killing, marry a rich man, inherit a fortune, etc.  Something would happen.  As I aged, that dream never disappeared, but the money never appeared either.  I couldn't give it up, so I just put it off.  I would rationalize to myself, "well, as long as I have the house built by age 50."  When 50 came and went, I started to panic.  No money ever came, I was married to a pauper, saddled with a large mortgage, and I was pretty certain (correctly as it turned out) my mother would do her best to dis-inherit me.  So, what to do with my dreams if they couldn't be realized?
Whining to friends and family didn't help.  "What's wrong with just converting the garage space into living areas and creating a small bedroom addition?"  "You know, I bet if you sold your farm, you could get a nice house in our subdivision.  Toll Brothers/Ryan Homes/Van Meter is building some really nice ones, you could even probably afford some of the upgrades!"  
So what to do?  No offense to those who live there, but suburban or urban living is akin to a slow suicide in my book, and I'd be deeply unhappy living so close to other people (Actually, over time Keith has gotten even more ferocious about this than I have).  Selling off entirely and starting afresh seemed like the only answer, but how to sell off 26 years of planting, earthmoving, and designing to someone else?  They'd need to share my vision, or otherwise why would anyone even take it on?  Having sold enough properties in the area, I knew only too well at how much of a discount other people's unfinished dreams sold for.
So when we naively did the math for selling off part of the farm, the logic was this: 1) sell off enough land to pay off the mortgage; 2) Take advantage of super low interest rates and collateralize the remaining farm for a large construction loan; 3) build a scaled down version of Touchstone Hall and leave most of the interiors unfinished; and 4) work like the devil for the next 10-15 years to pay off the mortgage.  Then die.
It made sense on paper.  Thus we began.  The first bits were easy.  We sold half the farm, then qualified for a nice fat construction loan, and we then started looking for someone to turn our dreams into reality.
Of course, someone as pig-headed as I am is an architect's worst nightmare.  I know just enough to be dangerous and demanding, and not enough to know why my demands are stupid or unbuild-able.  Worse than that was having 35 years of accrued fantasies, sketches in my head, and sketches on paper of exactly what the house would look like.  Lastly, in our circle of friends, I'd say at least ¼ of them are architects (and good ones!).  Professionally I know about a dozen more.  Who to choose?  Even one of my brothers is an architect, for heaven's sake!  Whose friendship would be strong enough to weather my client tantrums?   Well, as it turned out, an architect was a non-starter for two additional reasons:  1) we couldn't afford one; and 2) we couldn't afford the additional year that it would take for them to design what I already had in mind.  This whole project rested on getting it done while prices and interest rates were still low.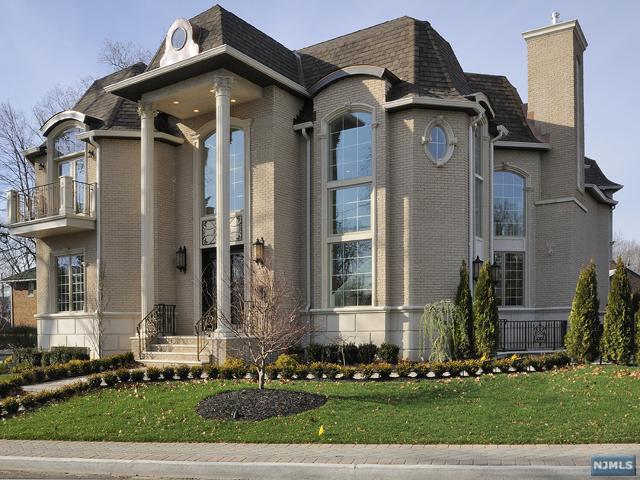 So instead we opted for a very good builder with a very good reputation for design/build and coming in on budget.  And with the help of an excellent draftsman, we got started.  At first it was pretty seamless.  We gave him all our plans, dreams, pinterest pages, the very tight building footprint, and basically said "make it so." And he did.  Our template was a traditional Virginian manor house.  I've seen enough of them over the years (and sold enough of them as well) to know what has endured and become timeless (basically Georgian or nothing).  That was (and still is) very much the key.  I did not want to build something that was 'of the moment' or that incorporated anything that smacked of suburban 'McMansion.'  Yet, at the same time, I wanted to incorporate the latest technology in making it super energy efficient and low maintenance. How to do this??  That, unfortunately, halfway through the building process, is still the question.  (True confession: In my darkest hours I fear that we may have tipped over the edge to McMansion-ville).
At any rate, by January 2021 the plans were pretty much completed and the builder had cost it all out.  Of course, everyone knows what happens next.  This is such a common trope that Hollywood has endlessly recycled it to the amusement of moviegoers over the past century.  Mister Blandings Builds His Dream House pretty much nails it to perfection, though The Money Pit describes the financial aspects quite succinctly. After cutting back everything we possibly could (do we really need a kitchen?  According to Keith, we do!), we came up with a budget that was exactly twice the number I had imagined.  Sighing, we gave them the go-ahead and signed the contract.
Then, nothing happened.  Then suddenly we got a call from the builder.  Prices were going up.  We needed to stockpile building materials ahead of those increases.  Could they create a 'staging area' now?  Yes, they could.  Also, windows were set to have a massive price increase.  You need to decide IMMEDIATELY what windows we are going to use.  Your budget is X, as per contract.  Give me your answer now!   And that set the template for the rest of the year.   We need a decision on "X" now!  So, the downside of having a draftsman draw your plans is that while you get a house that looks like what you want, and has all the engineering and electric and plumbing schematics in place, there's just vague notations instead of detailed drawings for actual interior 'stuff.'  These are the very things where architects really ARE handy.  They've worked with various lighting systems in the past and know what to use and not to use.  They've used Anderson/Pella/Marvin windows in the past and know which ones would suit this project best.  Yes, the builder has had experience with these things too, but at the end of the day the builder is going opt for 'builder grade' and (surprise!) that 'builder grade' is what the budget calls for.  Now, in my defense, I knew this going into the project.  There would be tons and tons and tons of really important decisions to make – both major and minute.  But honestly, that was the part of the process I thought I would enjoy.  And I actually would have enjoyed it – if not for everything that happened next.  This perfect storm of attention drains in 2021 meant that I had no time to make any of these decisions.  My big fear was (and still is) making the wrong decision and having to live the rest of my life with the consequences.  I wanted the luxury of time (and it truly is a luxury) to look at all the options, read the reviews, talk to people who have the same things and hear their opinions, and generally investigate all options before making the definitive choice.
Ha!  Dream on. What a rude shock!  The pandemic, supply chain issues, and price shocks meant that half the stuff wasn't even available and what was available was ONLY available on-line (which meant staring at a tiny misleading photo on my computer screen) and making a choice based on that and a few online reviews.
Not having an expert to guide me meant having to do a deep, deep dive on minutiae I didn't have time for (do I want 12V or 24V LED lights for cabinet under mounts – but wait, here's another option that isn't even low voltage, would that work even better?).  Do you want this faucet or that faucet – there are only 286 choices?  Okay, you want that faucet, but if you use it with this particular sink you want you're going to have to tell us how high you want the faucet to be above the sink bowl, because it ain't standard.  And so on.  Every. Single. Day.
Keith, besides being somewhat aesthetically challenged, had his own crises to deal with (tests, condo, surgery) and couldn't be bothered to obsess over details. Of course, that made it worse.  I don't mind making the decisions, but I do very much mind listening to the aftermath for the next 20 years (why'd you ever pick this piece of crap?   I hate this xxx, I certainly would have chosen something better!).   So I exasperated him as much as I could "Look, I only need you to focus on this right now.  Do we want these shower knobs or those?" and for as long as I could (not long), before he'd give up and say, "Oh I don't care!" That was good enough for me and gave me ammunition for the inevitable argument years hence (Keith: "Why do we have these blankety-blank shower knobs!!"  Alan: "I gave you a choice!").
The whole year I just dreamt of a time when I would not have to decide whether we wanted soapstone or granite (or wait, maybe quartzite?) or, which is better for us, closed cell or open cell insulation (or wait, aren't both of them just overkill in our climate)? It was beyond draining.  And this process, along with every other thing the year threw at us, was just something to get through – knowing that eventually, eventually, God willing eventually, it would all be done.  The mantra of the year was "a year from now, all of this will be behind me.  A year from now, all of this will be behind me."
And here we are with 2021 finished, and, to some degree all of the major house decisions have been made.  For better or worse, I can't go back now.  I still have to finalize the tile selections in the bathrooms, but other than that, it's all been decided.  No more sleepless nights worrying about exactly where on the wall a wall washer light should hit and whether the color temperature (2700K) was the right choice for those recessed lights (it is).
Of course, there have been a few disasters and a few tantrums thrown (No! That is NOT acceptable!), but by and large it is all working out.  Or it will work out eventually.
The key lessons learned in this process are:
Everything costs at least double what it did before the pandemic/supply chain/great resignation.
Everything that I want is double the cost of the (already doubled) builder grade stuff specified in the building contract.
Mrs. Blandings was right when she exclaims in the movie at the first sight of her newly framed house; "From the outside, this place looks like a grain elevator. On the inside, everything's miles too small."
The Building Code is written by aesthetically challenged pod people who live in plastic cubicles and follow that insufferably American overkill logic that everything must be doubled beyond the actual needed limits. If a three foot landing is sufficient, well then, building code will specify six feet and not an inch less (Note: I'm very happy to bore you to tears with ridiculous specific examples when we meet).
So now at this writing, we are at the mercy of a virus variant which will no doubt rip through our work crew these next several weeks and delay things even further.  A supply chain which promises (but probably not deliver) that our appliances will arrive in September 2022 (over a year after they were ordered!).  And a Federal Reserve that is going to renege on its promise not to raise interest rates until 2023!
I hope to be proven wrong in the above prediction by next year's New Year's letter, but I truly do fear that our house will not be completed by April 2022, we will not be able to afford the new higher interest rates on our mortgage, and that our appliances will still be on a boat from China come September.