Ceres D. Cat – March 22, 2002 – June 27, 2021
I don't want to become one of those people.  The ones that try to convince you just how amazing their little departed Fluffy was and what a special pup/kitty/ferret he/she was.
While it's true that the little furball was special to you, it is also true that not only do others not share your grief, but they really can't see what so special about your critter.  Now, their critter is another matter entirely.
So, I'll try not to convince you how special Ceres was.  Keith and I know it, and that's the only thing that counts in the end. But I will attempt to give you some flavor of her outsized personality and her general awesomeness.
The first thing to know is that Ceres was decidedly not your regular tabby.  She was actually only ¾ domestic cat, and ¼ Jungle Cat (Felis chaus).  As a hybrid cat, she inherited some unique characteristics from her wild cat maternal grandfather – she was larger, lankier, and decidedly more athletic that domestic counterparts. And truth be told, on her father's side she had even more Jungle Cat ancestry, so genetically she was probably more like 2/3rds domestic and 1/3 Jungle Cat.
Because of her wildcat ancestry it was very important to create a bond with her at an early age.  I picked her up from the breeder in North Carolina at not quite 4 weeks of age and had to bottle feed her and gradually wean her on to solid food.  Even when she was that small, she had me totally besotted.  I would stare at her and be absolutely flooded with oxytocin and wanting to hold and protect her.
Of course, as she grew into a rambunctious kitten it was quite clear that she just too bouncy and boisterous to be an indoor cat.  By the time she was eight weeks old she had chewed off a good sized hunk my nice leather sofa.
But she was never destined to be a house cat.  Even before she was born I had created a "Kitty Kondo" in the loft of the small barn, with catwalks, climbing trees, and rope toys and where she and the other cats could roam about destroy things to their hearts content.  She was destined to become the matriarch of my cat breeding program.  But when she was actually old enough to move there, I missed her so much that I set up a hammock between the barn beams and slept most of the summer up in the barn with her in my arms.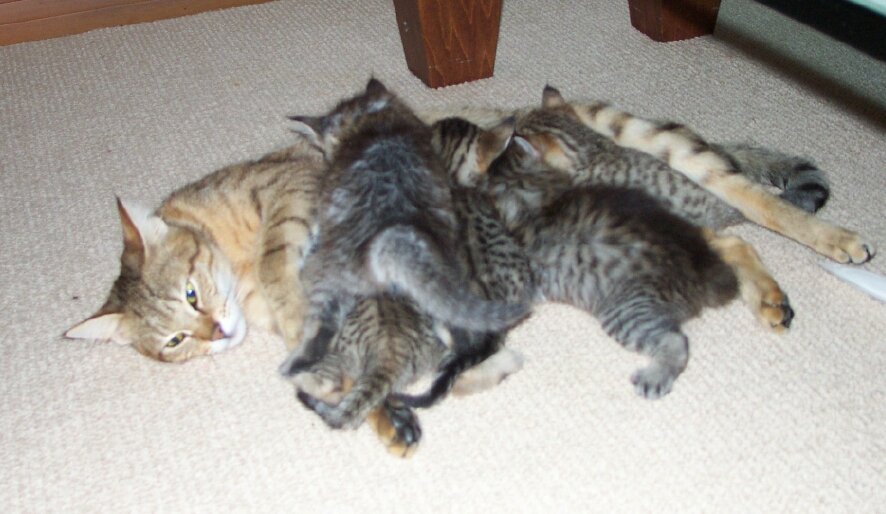 She had a brilliant career as a momma cat, and she clearly passed on some of her awesomeness to her progeny, as I would get cards and letters for years afterwards from people who had purchased her kittens and couldn't believe how much personality a cat could have.
And it was her outsized personality that was the most amazing part of her that is hardest to convey.  Yes, she was strikingly beautiful and regal.  But she was also as bad-ass as any creature could be.   It was clear she was born to rule.  When her breeding days were over, she got installed in the big barn as 'the' barn cat and she ruled over her domain with an iron paw.  The big barn had rafters 14 feet above ground, and a catwalk high up in the rafters.  From that perch she would patrol for pigeons and starlings and survey her domain.   She'd deign to let the sheep or the donkeys in the barn, but only on her sufferance.  And when she'd had enough, she let them know.  The same with human visitors.  People would be struck by her exotic beauty and apparent friendliness, and have to be warned not to try and pet her.   She'd get a look in her eyes if anyone dared to be overly familiar with her royal personage, and then watch out!
Yet I could pick her up like a sack of potatoes and sling her around my neck and take her anywhere. That was, in fact, her favorite perch, where purring loudly, she would set to work licking and cleaning me within an inch of my life.  On freezing nights stuck in the barn during lambing season, Ceres would leave her warm nest and come nestle inside my jacket and help keep me warm during my vigil with ewes in labor.  I've never had such an intense bond with another creature.
It was as a magnificent hunter and athlete that Ceres really excelled.  Cats are very efficient killing machines, and they are unfortunately a leading cause in the loss of our native songbirds.  But Ceres was pretty monomaniacal in her hunting.  She had a barn to keep clean of vermin and there was more than enough to do there without seeking other hunting grounds.  And here again, she was unique.  She was a 'cooperative' hunter.  Cats are by nature rather solitary creatures, and never more so when they are hunting.  But Ceres and I could hunt together.  I'd never seen anything like it.  It was pretty amazing.  If I saw a mouse, all I had to do was whisper "Ceres" and she was on alert, beside me in an instant.  She'd freeze, look at me, and this is the really, really amazing thing, follow my hand as I would point to where the mouse was.  Then she'd assume the position, and get ready to stalk and pounce.  Now the thing is, animals are not generally able to follow human pointing.  Even chimps have a hard time doing it.  But Ceres could.  (note: I just googled this, and apparently some other cats have learned to do this too, but still!).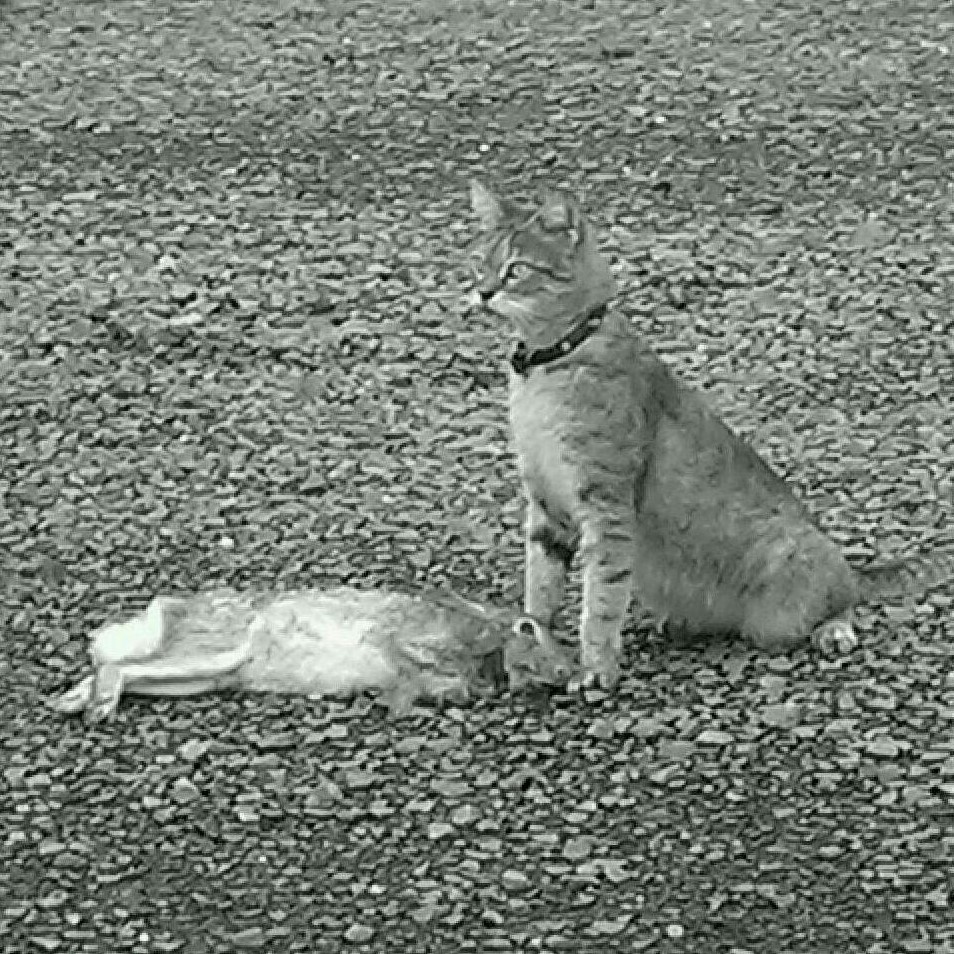 It this cooperative hunting behavior that first that first clued Keith into her awesomeness.  He and my nephew Luka watched her corner a large rabbit under a car and then, with their assistance, flush it out and make the kill.  Keith compared it to a lioness on the Serengeti bringing down an antelope.  He was in awe.
Her athleticism was legendary.  She could leap over a farm gate (5 ft high) in a singe bound.  She would often go for walks with us.  We would walk along the farm drive, and she would keep pace on top of the board fence (a mere half inch thick).
Yet she wasn't above cadging a ride in a truck or a car.  She had a healthy respect for moving vehicles, but if the car was parked and engine off, and you opened a door and said 'hop in!' she'd do so without hesitation and 'stand' shotgun with her back feet on the seat and her front paws on the dashboard and enjoy the ride.  In fact one of her favorite things was to walk the quarter of a mile from the barn to the house and wait for me to come out so she could get a ride back.
When Keith and I would come in from a night out, we'd drive by the barn and have a visit with Ceres.  It got to be that she'd be at the barn door anticipating our arrival when she heard a car late at night.
Unfortunately she grew deafer and deafer as an old lady.  In her later years when we went for an evening visit after a night out somewhere, we'd have to drive up the barn and leave the car lights on for a while to let her know we were there, but sure enough, she'd get out of bed and come visit for a while.  As she aged, she lost some of her amazing athletic abilities, but even in her last week, she turned to see a pigeon land in the barn and she went after it.
Her end was rather sudden.  Three months after her 19th birthday she went into decline.  She did not seem to be in pain, but in her final week, she lost weight rapidly.  She stopped eating and seemed to have difficult in doing so, no matter what we tempted her with.  She could drink some water, but food didn't go down.  On a June Saturday late afternoon, I spent about an hour with her.  She was very, very affectionate and didn't seem to want me to leave.  So I kept my hand on her until she fell asleep.  I left to go to an event.  When I got home later that evening she was asleep in the barn.  The next morning I went with dread to check on her and she was nowhere to be found.  I wondered that she had the strength to get up, much less to get out of the barn (she had to crawl under a gate to do so, or climb over it).  I looked around but could not find her anywhere.  This was always my fear, that when her time came I would not be there or she would be out alone somewhere in the woods and I would never find her body.  Cats like to go away to die and so she did.  I did get to say goodbye to her, but I do feel guilty not spending the evening with her and it haunts me that she got up in the middle of the night, weak as she was, to wander off where she couldn't be found.  But three days later I did find her, under a bush near the house.  She'd been dead only for a few hours and luckily I was the first to find her.  We buried her under the foundation of the new barn where we hope her spirit will endure and watch over us.