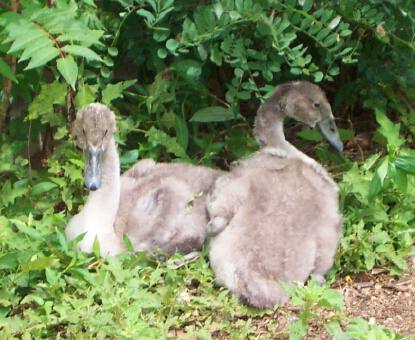 Castor and Pollux are the latest additions to the growing zoo called Touchstone Farm.
When they arrived as six week old cygnets these two brothers were too young to be put out on the pond and had to spend the first few months in a secure pen.  They were fat, gangly, and frightened, and didn't do much but eat, drink, hiss, and hide from me.  Their ungainly bodies and slow lumbering walk made them the ugliest of ugly ducklings.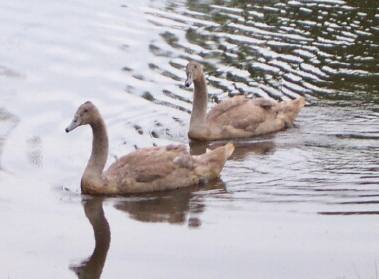 When they were about three months old and feathered out, Castor and Pollux were transferred to a pen that was half in and half out of the water.  They stayed enclosed for a few weeks to get used to their new environment.  Slowly, they also seemed to get a little more used to me.   Once they were released on the pond, however, they really started having fun.  They'd spend their days diving and splashing and eating tons of weeds.   Each evening they'd come back to their pen to be fed.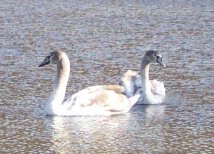 Their thorough investigation of every corner of the pond resulted in each of them having unfortunate encounters with old rusty fishing hooks, but both have healed nicely and they've continued to grow like weeds.
As of this writing they have almost completely molted into their adult white plumage and are slowly getting the distinctive orange bills and black knobs that identify them as adult Mute Swans.  While they won't be fully mature until they're 3 years old, they've already established themselves as farm favorites.